How To Know If You Have A TMJ Problem With Your Bite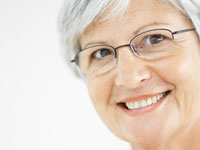 Problems with the way your teeth fit together occur in many different ways. Some bite problems cause discomfort or even pain, and that pain can masquerade as problems that you would not readily associate with your teeth. Some bite problems can cause major damage to your teeth without producing any obvious discomfort.
There are some pretty simple ways that anyone can detect TMJ when a problem with the bite is causing or at least contributing to pain or discomfort.
The clench test: With your mouth empty so there is nothing between your teeth to bite on, close your teeth together and squeeze hard. If clenching your teeth together causes any sign of discomfort in any tooth, you have a disharmony in your bite.
Teeth that are sensitive to cold often get that way from the extra pounding they take if any part of that tooth strikes before the rest of the teeth contact during closure. Use the clench test to see if the extra sensitivity is related to an uneven bite. Squeeze hard. If you can make any tooth hurt by empty mouth clenching, the bite is probably the main reason for the sensitivity. This is a good way to find out if a new filling or crown is "high." If it hurts when you clench, it is probably not in perfect harmony with a correct bite. You should be able to bite hard and grind your teeth together in all directions without feeling discomfort in any tooth if your bite is perfect. The exception to this is if you have advanced periodontal disease, you may have several teeth that can't accept firm biting, but even then, you should not normally feel pain in a single tooth when biting.
If biting hard causes pain or discomfort in the jaw joint, (you may feel it just in front of your ear), you can suspect a possible relationship between your bite and a temporomandibular joint (TMJ) problem. It may be associated with a structural disorder in your TMJ, but more often the pain is coming from certain muscles that move your jaw joints to accommodate a bite that is not in harmony with your TMJs. Your dentist should be able to diagnose the exact source of the pain.
Look for severe wear on your teeth, as this is another sign that your bite is not in harmony. If you have worn all the enamel off the biting edges of your teeth, you will see a darker colored surface. This is dentin and it will wear down seven times faster than the much harder enamel that you've already worn through. So ask your dentist to evaluate what is causing so much wear. This wear can be especially damaging when it is on your front teeth, so if you notice your lower front teeth have worn down to dentin, have your bite checked. Better yet, don't wait till all the enamel is gone. Schedule a visit to your dentist office. Correcting your bite may stop or at least slow down the wear process.
By Peter E. Dawson, DDS
FAQs on Dental Implants, Wisdom Teeth and Sealants for Children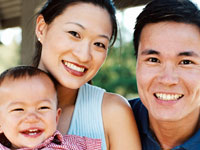 Q. How does one care for primary teeth?
A. As soon as the first tooth erupts, primary teeth may be cleaned with a clean, wet wash cloth or wet gauze. The gums should also be gently wiped. If a toothbrush is used, it should be an appropriate size.
Q. Where does decay on the primary teeth occur most often?
A. With inappropriate or prolonged use of the baby bottle, decay may occur on the upper front teeth (incisors). The second most-often occurring site are the upper primary molars, which are found furthest back in the mouth. If there is no spacing between the primary teeth, there is a much greater chance of decay between the primary molars. These teeth should be flossed as soon as they come in.
Q. Why are dental sealants beneficial for children?
A. Dental sealants are applied by your dentist as protective coatings for the chewing surface of permanent molars. They protect the teeth from decay. Read on for more information.
Q. What is a dental implant?
A. A dental implant is a permanent artificial tooth replacement.
Q. What is the procedure for receiving dental implants?
A. Dental implants are inserted surgically in two steps. The first step is to insert a "post" into or onto the jawbone. This post will then become the "anchor" for the artificial tooth that will be placed over the "post".
Q. How long is the procedure for dental implants?
A. Getting a dental implant is a two step process. Once the "post" is inserted into the jawbone, the patient will have between three and six months with a temporary restoration. During this period, the bone and gum area around the post will heal to create a strong and healthy bond.
Once this bond is complete, an additional set of smaller posts is attached to the original post and then the artificial tooth is secured to the posts. The entire procedure could take anywhere from three to ten months.
Q. Can I eat regularly while the implants are bonding?
A. While the "post" is bonding with your jaw and gums, your dentist will place a temporary artificial tooth on the post. During the bonding period, you will need to eat soft foods.
Q. Do implants require special care?
A. Yes and No. Dental implants need to be brushed, flossed and checked regularly by a dentist, just as you would do with your regular teeth. But dental implants don't need special brushes or pastes.
Q. Can you eat and chew normally with dental implants?
A. Yes. Consider that natural teeth can absorb up to approximately 540 lbs. per square inch of biting pressure and properly placed dental implants can withstand up to approximately 450 lbs. per square inch of the same pressure.
Q. How long should a dental implant last?
A. With proper placement, excellent home care, regular dental visits, and good overall health, dental implants should be permanent.
Q. What are wisdom teeth?
A. Wisdom teeth are the third molars.
Q. Why is it necessary to remove wisdom teeth?
A. It is necessary to remove wisdom teeth to avoid problems, such as an impacted tooth destroying the second molar.
Q. Why do wisdom teeth cause problems?
A. Wisdom teeth generate problems because the shape of the modern human mouth is too small to accommodate these teeth, and they become impacted or unable to come in or move into their proper place.
Q. What problems occur from impacted third molars?
A. Partially erupted wisdom teeth are breeding grounds for bacteria and germs that may cause infection. Cysts and tumors may grow on trapped wisdom teeth.
Q. How is a wisdom tooth removed?
A. Wisdom teeth are removed by surgery. The gum tissue over the tooth is removed, the connective tissue is stripped gently away from the tooth and bone, the tooth is removed, and the gum sutured.
Q. When are lasers used in dentistry?
A. Lasers are used in oral surgery, gum surgery, tooth whitening, cancer sore treatment, and the treatment of gums that have been diseased.